Paws & Effect: My Dogs Are Human! (Demo Ver.)
A downloadable game for Windows

Charlie's got everything a quirky millennial could want: A new job, an upcoming party, and super-cute Pomeranians. Naturally, it all goes wrong.

Charlie's birthday is in a few days and she's looking forward to a quiet, at-home party with a few friends. But a small (read: not small) problem arises when, due to inexplicable circumstances, her two Pomeranians transform into humans! Why did this happen? What can be done? Can dogs be trusted with fingers?
With more questions than answers, Charlie finds herself embroiled in a nonsensical adventure with her once-canine companions. As her dogs' many personality quirks hound them in their human lives, how will Charlie cope with her new circumstances?
Genre: Comedy
Intended Game Length: 1.5 hours
Demo Length: 20-25 minutes (~6,300 words)
Style: Kinetic (in demo; choices possible for final game)



You'll Like Paws & Effect If:
You like female protagonists who are real
You like shenanigans
You like cute dogs

You don't mind a little pink in your user interface
You like cutesy, lighthearted games with smatterings of darkness
Your feedback is welcome! Feel free to comment here, or visit us on Tumblr (erotomesoft) or Twitter (@ErotomeSoft).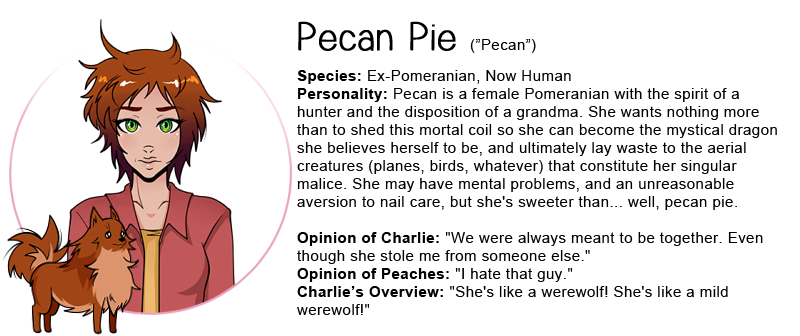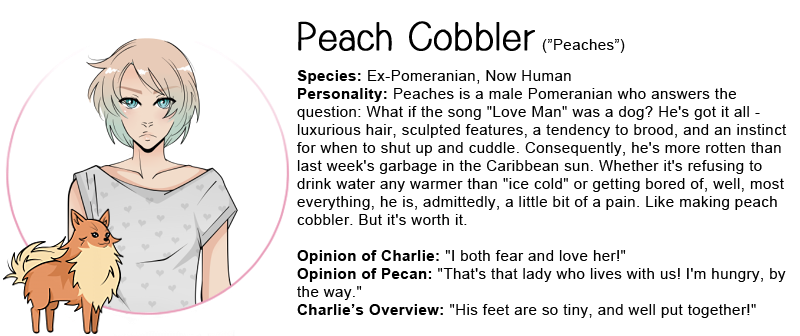 If you have questions or want to share your feedback, please feel free to comment! Be courteous and constructive, please.

| | |
| --- | --- |
| Published | 1 year ago |
| Status | In development |
| Platforms | Windows |
| Rating | |
| Author | Erotome Software |
| Genre | Simulation |
| Tags | Anime, Casual, Comedy, Cute, Dogs, Female Protagonist, free, Funny, humor, Visual Novel |
| Average session | About a half-hour |
| Languages | English |
| Inputs | Mouse |
| Accessibility | Subtitles |
| Links | Homepage, Twitter, Community |
Download
Click download now to get access to the following files:
Paws and Effect Demo v. 1.zip
59 MB
Comments
Log in with your itch.io account to leave a comment.
We're glad you enjoyed the demo so well, Kat123! We can't wait to give you the full version!
Cannot play :( I keep getting an error, "The program can't start because d3dx9_37.dll is missing from your computer. Try reinstalling the program to fix this problem." I did reinstall, but got the same error. I also already have the directx9
EDIT: I did get the game working, and I wrote about my thoughts in my blog, the entry can be found, here: http://pajamagaming.blogspot.com/2017/01/demos-to-keep-eye-on-2.html
Hi Bellannmae,
I'm sorry that you encountered this problem! The safest solutions are to:

1) Restart your computer and see if that fixes the problem;
2) See if you can upgrade DirectX to a more recent version;
3) See if your video card drivers can be updated;
4) As a last-ditch effort, you might try to download and install the DLL file manually, from sites like this, http://fix4dll.com/d3dx9_37_dll, but I'd be cautious with this method. Ideally, you would have an anti-virus program that scans downloaded files.
Please let me know if any of these methods work or you need more guidance. We'd really like you to be able to try the demo!
I downloaded the dll file directly and it worked!
I really loved the demo! I have 3 dogs myself, and I always wondered what it would be like if they were human. I thought the MC was very funny, and Peaches and Pecan acted just the way I thought dogs as humans would. The art is cute, and the music is kind of arcade-y. I really enjoyed it, and I look forward to the full game!
One thing I did note, was when you name the MC, if you use all of the spaces available (my first play through I used the name Cinnamon because I wasn't sure if I was naming the MC or one of the dogs), and during dialogue in the game, the 'n' would be left off of the end, naming her Cinnamo instead. Nothing serious, just something I noticed :)
Hi Bellannmae,
I'm really glad you were able to play the demo! Thank you so much for taking the time and offering your feedback. It's good to have a vote of confidence from a fellow dog lover!
Thank you, also, for bringing up the naming issue. I'll make sure to address that in the final version. Which does, exist, by the way, despite the obvious gap between the demo and now. It's one of several projects we have in progress, and I still have to attend to other work to keep the electricity on, ha. So it's slow, but I do want you to be able to enjoy the full game soon.
- Shawn, Erotome Co-Founder

Hi! sorry to bother you but I was wondering if you could please help me with a problem,, for sme reason the game won't launch and all it says is " application crashed. Process exited with code 3221225781". Do you know what this means and how to fix this? Thank you!!
Hi kawaiinoobplays,

It's no trouble, and we appreciate you taking the time to download the game. My best guess is that you still need to download updates for DirectX beyond just installing DirectX 9. I think you can do via this link: https://www.microsoft.com/en-us/download/details.a...

Try installing these updates, and maybe rebooting your PC, and let me know if that works.

Thanks!
Hi! Thank you so much for your help! After a few tries of downloading it finally worked so thank you! Can't wait for the full version!
We're glad that it finally worked for you! Thanks for your support. We are still working on the game, along with others concurrently.

You really should take off the OS X symbol since basically I'll need to run Windows on my Mac, which defeats the whole purpose of filtering my results. You game sounds really cute, so good luck.
A: the renpy engine is great because of how easy it is to run in wine.
B: the dialogue is HILARIOUS (in a witty and creative way)
C: It's "making America great again"!

Hi hytru,
Thanks for the rating and feedback! We're thrilled that you enjoyed the demo! Renpy does seem great, but unfortunately, we don't have any mad programmer skillz and I didn't want the project to be stalled from having to learn some. For future projects, though, with more budget behind them, we will very likely change our tune and employ Renpy.
Also, let's all do our part this American election cycle and list "Peach Cobbler" on our ballots.

omg peach learning "shit" from his owner in my opinion is fabulous XD
It's just like a child - gotta be careful what you say around 'em, or one day, they'll become people and ruin your life.
Thanks for playing the demo!

haha no problem! I'm excited for the game~
Our underpaid gnome workers are toiling on the project as I write this. But they're an unruly, unreliable lot, so day-to-day progress varies. It will happen, though!
Whenever I go to Open it, it just tells me it cant start because 'd3dx9_37.dll' is missing? Help? Please
Hi TheObsoleteQueen,
Sorry for your trouble! It seems like a pretty easy fix, though; you just need DirectX 9, which you can download here. After you install the program, you should be able to run the game without a problem, but let me know if it doesn't work for some reason. We hope you get to try out the demo soon!
Hi! I have been having the same problem and I have downloaded DirectX 9 but for some reason it's still not working,, any ideas? Thank you!!
Not gonna lie, I cackled at the 'mental block'. B') Really enjoyed the demo, and super curious to see how this and the protags life turns out! Poor precious babies. :')
Ha, someone's gotta think of the children, right?
Thanks for the reply and encouragement, maddmouse!